Streaming: The Emigrants
Available April 2–May 10, 2020
Recorded conversation: Jan Troell, Agneta Ulfsäter-Troell, and Yohanna Troell
Troell has made the masterpiece about the dream that shaped America—a dream, and an America, fast disappearing from our views.

Richard Schickel, Life
featuring
Liv Ullmann, Max von Sydow, Eddie Axberg, Sven-Olof Bern,
BAMPFA from Home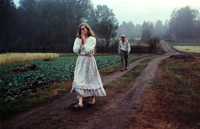 Watch this film on your TV, computer, or mobile device through our streaming partner, Eventive. When you use this link, your rental benefits BAMPFA.
Technical issues? See the FAQ.
Ticket Package
The entire series and accompanying presentations are also available as a bundle with a discounted rental fee.
Learn more
---
Recorded Conversation
Jan Troell, Agneta Ulfsäter-Troell, and Yohanna Troell on "Max von Sydow: Reflections on His Career"
Available April 2–May 10
Watch a recorded conversation with Swedish filmmakers Jan Troell, Agneta Ulfsäter-Troell, and Yohanna Troell moderated by Richard Peterson, Director of Programming, Christopher B. Smith Rafael Film Center. Access is included with rental of this streaming film program.
The first of Jan Troell's two films adapted from epic novels by Vilhelm Moberg stars Liv Ullmann and Max von Sydow as struggling Swedish farmers in the 1840s who decide to emigrate to America. The Emigrants received Oscar nominations for Best Picture, Actress, Director, and Adapted Screenplay—rare honors for a foreign film. Ullmann, often identified with Bergman's films, has said Kristina is her favorite role. Among the many distinctive qualities of Troell's cinema is the fact that he is the cinematographer of his own films and enjoys the freedom that comes with the dual role of director-cinematographer.
FILM DETAILS
Screenwriter
Based On
the novel by Vilhelm Moberg
Cinematographer
Language
Swedish
with English subtitles
Print Info
Color
Digital streaming
191 mins
Source