Streaming: Son of Monarchs
Rather like the butterfly wings that are its central metaphor, Son of Monarchs is deceptively fragile-seeming, yet robust, structurally complex and vibrantly hued.

Jonathan Romney, Screen Daily
featuring
Tenoch Huerta Mejía, Alexia Rasmussen, Lázaro Gabino Rodríguez,
BAMPFA from Home
Watch this film on your TV, computer, or mobile device through our streaming partner, Eventive. When you use this link, your rental benefits BAMPFA.
Technical issues? See the FAQ.
---
Recorded Conversation
Alexis Gambis, Aaron Pomerantz, and Andrés Cediel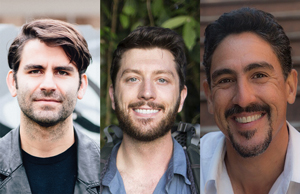 Watch a conversation with writer/director Alexis Gambis and biologist Aaron Pomerantz, moderated by UC Berkeley Professor of Visual Journalism Andrés Cediel.
An intricately constructed meditation on migration, the environment, science, and identity, Son of Monarchs follows biologist Mendel as he shuttles between New York City and his hometown in Michoacán, Mexico, revealing both the inspiration for his groundbreaking research and the roots of a haunting trauma. In winter, millions of monarch butterflies migrate to the forests of Michoacán. Mendel's memories revisit his younger self observing the forest and its creatures with his brother Simon, but scenes of the brothers in the present suggest the fracture of filial bonds. The film balances an appreciation of contemporary science and sophisticated CRISPR gene editing technology with respect for traditional and intuitive approaches to understanding the world. Writer/director Alexis Gambis holds a doctorate in molecular biology and Berkeley doctoral student Aaron Pomerantz provided images of a developing butterfly chrysalis for the film. "In Son of Monarchs, Gambis has mapped the butterflies' migratory paths and genetic patterns onto Mendel's search for belonging. It's an inspired blend of science and narrative, and an affecting allegory emerges from the unique imagery" (Jude Dry, Variety).
FILM DETAILS
Screenwriter
Cinematographer
Language
Spanish
English
with English subtitles
Print Info
Color
Digital streaming
97 mins
Source