Streaming: Taiga
Digital Restoration
January 18–August 31, 2021
Fascinating . . . a landmark in the West's attempts to represent the East.

Bérénice Reynaud
BAMPFA from Home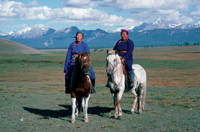 Watch this film on your TV, computer, or mobile device through our streaming partner, Eventive. When you use this link, your rental benefits BAMPFA.
Technical issues? See the FAQ.
Ottinger's serenely beautiful, eight-hour ethnographic project, Taiga, is a study in epic time, a journey through northern Mongolia structured in ten parts and thirty-eight chapters. Ottinger's skillful camerawork captures the natural landscape (crystal-clear air and water, mountainous terrain, and silvery-golden vegetation) and records the activities of the Darkhad and Sojon Urijanghai peoples with great sensitivity, without hurry. Ottinger's filmmaking technique foregrounds the sound of the wind and the effect of the elements. She follows nomadic yak and reindeer herders to their autumn, winter, and summer camps, and observes their daily lives, holidays, and religious rites led by shamans. Subjects in the film comment on how things were before; they speak of what has been lost, forgotten, or changed. The "narrative" trajectory of Taiga moves from the sublime landscape of the wilderness to settlements of the Mongolian-Russian period, concluding its trek in the cityscape of Ulaanbaatar. Exploring ideas of community and ritualistic practice, Taiga is a work of rare beauty made by one of cinema's most provocative filmmakers.
FILM DETAILS
Screenwriter
Cinematographer
Ulrike Ottinger
Michael Veigel
Language
Mongolian
Tuvan
with English subtitles
Print Info
Color
Digital streaming
501 mins
Source
Arsenal – Institute for Film and Video Art