Streaming: A Tale of Springtime
Unspoken rivalries, ulterior motives, frustrated desires, and bilious grudges boil beneath the cool surface of Éric Rohmer's Parisian comic drama of stifled romance.

Richard Brody, New Yorker
featuring
Anne Teyssèdre, Hugues Quester, Florence Darel, Elöise Bennett,
BAMPFA from Home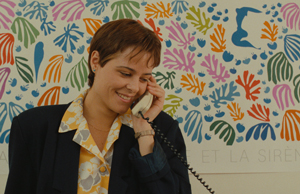 Watch this film on your TV, computer, or mobile device through our streaming partner, Eventive. When you use this link, your rental benefits BAMPFA.
Technical issues? See the FAQ.
Ticket Package
The entire series is also available as a bundle with a discounted rental fee.
Learn more
Spring is a time for transformation—but one must be set free from one's moorings. A philosophy teacher, Jeanne, has two apartments but can't stay in either one; she lives in her thoughts, in any case. Invited to stay with a piano student, Natacha, who lives in the house and shadow of her still young and sexy father, she becomes enmeshed as Natacha works out her father complex. But Freud is never the operating philosopher in a Rohmer film. Rather, Kant's Critique of Pure Reason (which Jeanne happens to carry with her) suggests the role the imagination plays in making reality. A mystery (or McGuffin) involving a missing necklace, and Plato's ring of Gyges that makes people invisible, are equally fantasies by which people live and learn to trust.
FILM DETAILS
Screenwriter
Cinematographer
Language
French
with English subtitles
Print Info
Color
Digital streaming
108 mins
Source