Tuesday, Sep 8, 2020

All Day (85 mins)


Rent Now

Wednesday, Sep 9, 2020

All Day (85 mins)


Rent Now

Thursday, Sep 10, 2020

All Day (85 mins)


Rent Now
Streaming: Countercultures and Undergrounds
Program Available for Three Days Only, September 8–10
BAMPFA from Home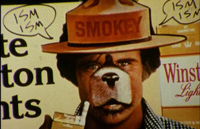 Watch this program on your TV, computer, or mobile device through our streaming partner, Eventive.
Technical issues? See the FAQ.
---
Livestream Conversation
Jesse Lerner, Alfredo Gurrola, Rolando Peña
Wednesday, September 9, 7 PM PDT
Join us for a live conversation with Jesse Lerner, a documentary filmmaker, curator, and writer and the coeditor of Ism, Ism, Ism: Experimental Cinema in Latin America, and filmmakers Alfredo Gurrola and Rolando Peña. Access is included with rental of the streaming film program; you will receive an access link via email prior to the event.
Some of the filmmakers on this program explicitly embrace counterculture movements' radical political goals while others' ideological concerns are implicit, but all of the films are unified by their allegiance to a range of underground, youth, or countercultural phenomena. Several of the films document performances, ephemeral actions, or interventions in public space. Narcisa Hirsch's Marabunta involves the interaction of a film audience after seeing Antonioni's Blow-Up. Enrique Pineda Barnet's Juventud, rebeldía, revolución offers documentation of a performance by an international collective led by Cuba's Grupo de Teatro Experimental. Manuel DeLanda's Ismism captures the filmmaker's interventions on Manhattan billboards. Sérgio Péo's Esplendor do martírio visualizes a group of intellectuals occupying and disrupting urban space, later to be removed by the Brazilian military. Rolando Peña, an iconic figure of Venezuela's avant-garde, produces an impossible dialogue in Cotorra 2, echoing the complex relationship between intellectual debates and the noise of "progress." Alfredo Gurrola's Super-8 trip, based on a poem by Tomás Segovia, points to preoccupations of a radical, alternative culture.
—Los Angeles Filmforum
Films in this Screening
Juventud, rebeldía, revolución
Enrique Pineda Barnet, Cuba, 1969
FILM DETAILS
Language
Spanish
with English subtitles
Print Info
Color
35mm transferred to digital
30 mins
Ismism
Manuel DeLanda, Mexico/US, 1979
FILM DETAILS
Print Info
Color
Super 8 transfered to digital
Silent
6 mins
Marabunta
Narcisa Hirsch, Argentina, 1967
FILM DETAILS
Print Info
B&W
16mm transferred to digital
8 mins
Esplendor do martírio
Sérgio Péo, Brazil, 1974
FILM DETAILS
Print Info
Color
Super 8 transfered to digital
10 mins
Cotorra 2
Rolando Peña, Venezuela, 1976
FILM DETAILS
Print Info
Color
Super 8 transfered to digital
10 mins
Segunda primera matriz
Alfredo Gurrola, Mexico, 1972
FILM DETAILS
Based On
Language
Spanish
with English subtitles
Print Info
Color
Super 8 transfered to digital
13 mins