Tuesday, Oct 20, 2020

All Day (77 mins)


Rent Now

Wednesday, Oct 21, 2020

All Day (77 mins)


Rent Now

Thursday, Oct 22, 2020

All Day (77 mins)


Rent Now
Streaming: Four More Years
Program Available for Three Days Only, October 20–22
BAMPFA from Home
Watch this program on your TV, computer, or mobile device through our streaming partner, Eventive, beginning October 20.
Technical issues? See the FAQ.
---
Livestream Conversation
Allen Rucker, Megan Williams, and Steve Seid
Wednesday, October 21, 8:15 PM PDT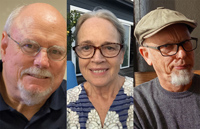 Join us for a live conversation with TVTV cofounders Allen Rucker and Megan Williams and media curator and writer Steve Seid, plus additional clips. Access is included with rental of the streaming film program; you will receive an access link via email prior to the event.
"Instead of stand-up reportage or sit-down analysis we wanted to see if TV could cover politics by letting people and events speak for themselves."—a TVTV member
In the sixties, it would have been obvious to say the mass media dictated what was newsworthy. But how does one rebut such a self-serving, monolithic system? One gesture was to turn portable video technology toward alternative documentation of the historical ferment. And so it was that in the early seventies Michael Shamberg, Megan Williams, and Allen Rucker formed Top Value Television (TVTV) and set out to show that dissident, raggedy mediamaking could serve as a DIY solution. TVTV's start point was auspicious—the 1972 presidential conventions. Their ragtag camera crews wandered the events, gathering overlooked stories with a frankness the networks shunned. Four More Years is TVTV's glimpse of the GOP convention with Nixon up for reelection. Inside the arena, a highly orchestrated political event is delivered, while outside antiwar protesters lean toward anarchy. TVTV's offhanded confabs with network icons like Dan Rather and Walter Cronkite convey the humdrum nature of this prepackaged spectacle. Also included in this streaming program are a handful of never-before-seen TVTV outtakes restored by a BAMPFA preservation project. Essays, interviews, and further information about this project are available at Preserving Guerrilla Television.
FILM DETAILS
Print Info
B&W
Digital streaming
62 mins
Source
Additional Info
Produced by Wendy Appel, Skip Blumberg, Nancy Cain, Steve Christiansen, Michael Couzens, Bart Friedman, Chuck Kennedy, Chip Lord, Anda Korsts, Maureen Orth, Hudson Marquez, Martha Miller, T. L. Morey, Allen Rucker, Ira Schneider, Michael Shamberg, Jodi Sibert, Tom Weinberg, Megan Williams